Another Sunday spent at BrewDog Nottingham and I can't help but want to make the four and a half hour round train/coach journey every week. Oh Nottingham station, you better be damned beautiful when you've had this work done.
Nottingham has quickly become my favourite of the BrewDog bars I've been to (also Birmingham and Manchester) with its relaxed atmosphere which is less bar-like and more like a cafe/pub hybrid. Like any good pub they have a pile of board games in the corner even though we brought our own pack of cards for Shithead purposes.
Trying a beer cocktail at @BrewDogNotts – not a beer person but this is AMAZING. Libertine Black Ale, lime & Kraken spiced rum. #winning

— Jamie Hogue (@JamieHogue)
For the first time I had chance to try one of BrewDog's beer cocktails… and by one I mean two. Myself and Jamie tried I'm So Bored Of The IPA and Cuba Über Alles respectivly. Absolutly gorgeous and I really need the recipes… and Libertine Black Syrup! Yummy. They were really tasty and (as we discovered) went down easily.
The I'm So Bored Of The IPA (above) contained bourbon, apple juice, Libertine Black syrup and Punk IPA (and something else.. I think… I'm unsure… magic maybe?) and the Cuba Über Alles was basically a rum and coke with a twist… the twist being Libertine Black Ale.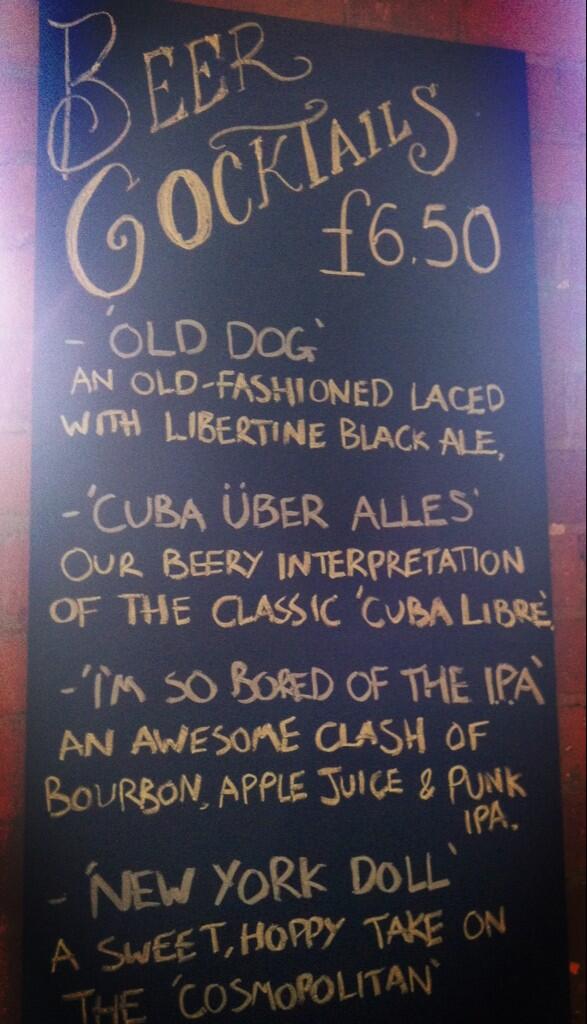 Wonderfully, through this route we (well, the very persuasive bartender) even got Jamie on the Hardcore. Quite a first beer, don't you think?